GV Convergent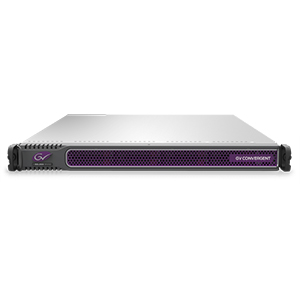 ブランド

型番

GV Convergent

品名

IP/SDI Router Control & Configuration System

The GV Convergent IP/SDI router control and configuration system transparently manages facility routing as the industry migrates from SDI to IP infrastructures, maintaining familiar control interfaces as well as introducing intuitive new GUIs for configuration, management and control. GV Convergent is both infrastructure and signal format agnostic for easy system scalability for your system today and far into the future.
> 製品特長
Transparent management of SDI and IP infrastructure
GV Convergent works with commercial off the shelf (COTS) switches
Uses industry Audio/Video over IP standards such as SMPTE ST 2022-6
Works transparently in an SDI/IP environment
Faster configuration and efficient operation
Incorporates intuitive graphical user interface (GUI), which is platform agnostic and can run on tablets and other devices, extending the capacity for configuration and troubleshooting the system from portable devices
The software optimizes the data entry and navigation using touchscreen and gesture features for enhanced user experience and greater usability
Glitch-free configuration updates are done in real time, with zero downtime
Provides multiple, simultaneous, administrator data entry points, which are very useful in dynamic environments such as trucks
Mission critical and scalable architecture
Completely integrated configuration and distributed control environment allows easy and dynamic sharing of configurations and data, enabling easy scalability from small to very large facilities handling thousands of I/Os
Distributed services provide robust and efficient redundancy, leading to zero down time and glitch free failover impact
Unified control system*
Advanced tally system
Tielines and bandwidth management
Direct control of IP endpoints
SDI router control system
Software Defined Networking*
Bandwidth link capacity management
Parallel support of SDN and IGMP
Security supervision
Redundant IP infrastructure management
Benefits
Ease into IP

Hide network complexity from your operators
One intuitive common and familiar interface for your SDI and IP workflows
Add IP to your facility, maintaining familiar interfaces and workflows, eliminating re-training
> 製品仕様
GV Convergent is based on open protocols, standards and platforms, encouraging interoperability, and has been designed to be infrastructure agnostic, working with commercial off the shelf (COTS) IP switches as well as SDI routers from Grass Valley and other manufacturers. The system works with a wide variety of hardware and software panels, commonly used today, as well as platform agnostic GUI interfaces. Switching is controlled either by software defined networking (SDN) or via IP endpoint control.